Hi there- I am Meredith Myers, the creative mind behind Jack + Mo. I was destined to design logos.
I have a very distinct memory as a child riding in the car with my mom to the beach. We drove by a beautiful jewelry store near the ocean, and their sign was BROWN with blocky text. I was absolutely outraged. I felt it in the pit of my stomach. I couldn't believe this store didn't have beautiful blues, flowing letters— like the ocean?!
Even then, I knew that branding should be something magical, and compelling.
True story. Ask my mom. 🙂
To me, logos are the perfect form of art- balancing creativity with attention to detail. And let's be honest- I'm a creative but also a little obsessive about things being precise and measured. This IS my cup of tea.
I am a problem solver. I ask questions, research, and collaborate directly with my clients to fully understand what they are all about.
The end result?  Beautiful logo design compositions that capture the true essence of a brand.
J+M HISTORY
I began Jack and Mo (formerly Jack and Molly Creative) in 2008. J+M started as a fun, weekend and evening gig that challenged me artistically and intellectually. I started with a few clients, and those clients were happy with their results and passed my name along, and those continued to pass my name along, and here I am, so many years later- with clients all over the world.
My clients range anywhere from being in the medical field and heath + wellness to commercial and residential real estate, product development, restaurants, retail businesses, creative services and so much more.
I am constantly learning, reading, researching, exploring. Could I possibly be any more lucky to do this as a profession?!? #ilovemyjob
In 2011, I decided to leave a full-time position as a Creative Director for a publishing company and do J+M all the time. Developing creative marketing and design strategies that my clients feel accurately reflects who they are is my true passion.
EXPERIENCE + EDUCATION
My experience includes serving 4 years as the Creative Director and Production Manager for a national publication (with a weekly circulation of 100,000+) and an apprenticeship at a strategic communications firm (who have won some great awards like the ADDY, AIGA, SABRE, Pinnacle Business, Holmes Report, Telly and more.) With both of these experiences, I feel I gained a wealth of knowledge and experience worth gold.

I hold a BA in Graphic Design from Peace College (William Peace University) where I graduated with honors and received the Artemisia Excellence in Art Award.
LIFE + INTERESTS
You can usually find me in my studio with a nice tall glass of ice water with lemon (that sounds lame, right? I scaled back on the coffee!), downtempo, binaural beats, classical or hip-hop on loud and designing logos like a champ.
I have an amazing hubby (Britton) and 3 uniquely wild children (Jackson: 14, Breck: 5, Kensie Jane: 3). We also share our home with a ridiculously cute Australian Labradoodle named Moose and a crazy little hot dog dachshund named Barkley. These peeps are my world.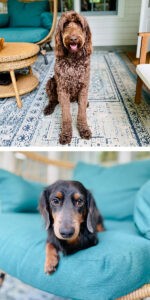 When I'm not working, you might find me hanging out with my fam, reading anything from best-selling fiction to research in science, cooking something deliciously healthy or rearranging my furniture for the one-millionth time.
MY MANTRA
I believe in treating others with kindness; I am a true Libra and definitely thrive on balance and equality. I believe in minimalism and not buying a ton of "stuff," spending time outside enjoying sunshine and fresh air, and reminding myself how fortunate I am to lead a happy, healthy life.
I love that through Jack + Mo, I am able to help others build the businesses they dream of and make a positive impact worldwide. As sappy as that sounds, it is 100% true!
If you'd like to discuss design projects ideas or have any questions, reach out to me! [email protected].